Tatsu bot is simple to add, with no initial setup required. Simply add the bot and you will have access to the functionalities.
Prefixes
The bot uses two different prefixes, one for standard commands, which require no permissions to use, and the other for moderation commands. The default prefix for standard commands is t! followed by the command, while the default prefix for moderation commands is t@, once again followed by the command.
Finding out how to use commands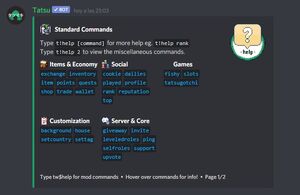 The t!help command provides useful explanation and examples to provide help with all commands. Simply typing out the command once shows a list of available commands, and using the command again with another command in front shows specific help for that command. For example, t!help fishy provides help for the fishing command. t!help 2 can be used to provide a list of the miscellaneous standard commands.
The alternative for moderation and administrative commands is t@help. It shows all moderation commands and explains them in the same manner as the standard help command.
Setting up your profile, rank, level up and wallet cards
Tatsu is a bot focused on social interactions and games, and a major part of it is the various cards which provide info on your tatsu profile.
Profile
The profile card shows various things.
Country badge: shows a country you've set the bot to display. Can be changed using the t!setcountry command.
Title: shown under your name, this title can be set on the online dashboard.
About: a text section for you to provide information about yourself. You can change the text on the online dashboard.
Global XP: the total amount of XP you've earned. Global XP is responsible for your levels.
Chat activity: the total amount of your chat activity, unaffected by supporter perks and used for the global activity rankings.
Reputation: the total amount of rep points you've received.
Badges: various badges you've bought from the store, can be set up on the online dashboard.
Rank

The rank card is responsible for showing your current server ranking, along with the amount of score you need.
Title: same as your title on the profile card.
Reputation: same as the rep shown on the profile card.
Server score: the amount of server score you've received in the server you've used the command in. The progress bar reflects the amount you need to reach the next leveled role, or lets you know if you've already received all leveled roles. Note that server score, also known as server exp, is different to global XP. Server score gain amount can be modified using t@persistence.
Supporter status: displays a heart if you are a supporter of the bot.
Accolades: allows you to equip up to 8 accolades, server specific items which you can buy using points.
Level-up

Appears when you gain enough global XP to level up. Shows your old level and the new one, along with your country badge and avatar. You can disable these cards showing up using t@persistence.
Wallet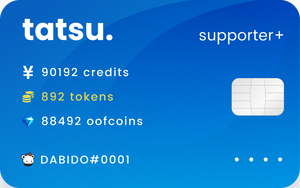 Shows you your various Tatsu currencies.
Supporter status: shows your status as a supporter if you are one.
Credits: the total amount of non-tradable credits you have. You earn credits passively, as well as through various means such as fishing, slots, quests, upvoting and dailies.
Tokens: shows the amount of your tokens, an alternative currency that allows you to buy items along with credits. You gain tokens through upvoting, finishing all of your daily quests and getting a 6x daily quest streak, walking your Tatsugotchi and dailies if you are a supporter.
Server points: a local currency you earn by talking in a server, which can be used to purchase accolades. The amount of server points gained can be modified using t@persistence.
Setting up backgrounds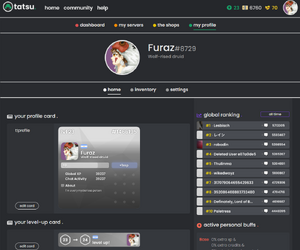 You can purchase various backgrounds which you can equip on your cards from the Tatsu store. You can equip level-up and profile backgrounds in the "My Profile" section of the dashboard, and can equip rank and wallet cards by going to the "My Servers" section and clicking on any server.
You may also upload and equip custom backgrounds if you're a Tatsu supporter, as a perk for supporting the bot.
Dashboard
The Tatsu dashboard allows you to set up and modify many of the bot's functionalities. You can find a full guide on the dashboard on the dashboard page.